New distance spanning services implemented in the Nordics 
VOPD* has made three journalistic articles describing new distance spanning services for healthcare and care implemented in the Nordics. The articles describe the impact on people's daily life, and what it means for the professionals.
VOPD has, over the last couple of years, supported implementation of distance services in 52 municipalities and 8 healthcare regions in the Nordics. Read more about the new service model in Bornholm, Denmark and the development in Agder region in Norway and in Northeast Iceland here.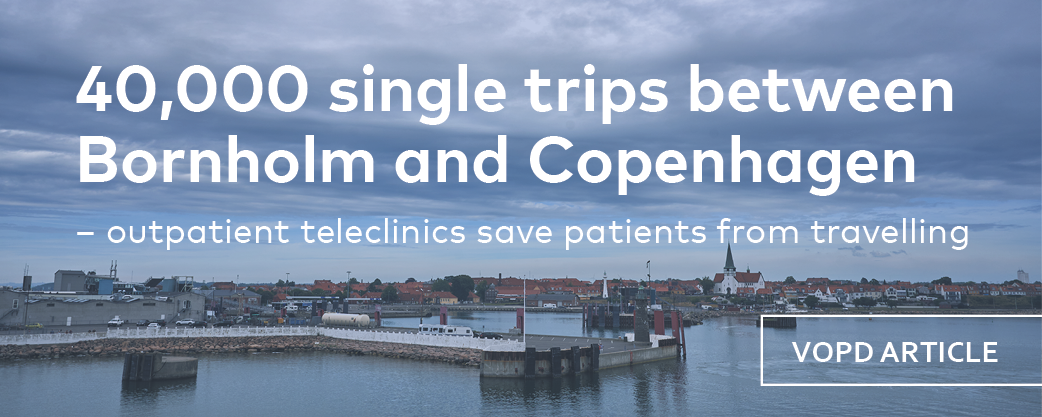 Bornholm Hospital has set up two outpatient teleclinics to save patients from having to travel to Copenhagen for specialist appointments. The new teleclinics is an alternative way to meet specialists, that can save time and money for patients as well as reduce the CO2 emission impact.

Read the article

The Agder region in Norway has taken the national lead on digital telehealth. Twenty-five municipalities have set up a regional telemedicine central for remote follow-up of patients. To get the full benefit from the telemedicine services, a close cooperation is required between municipalities, hospitals and general practitioners.

Read the article

With support from VOPD, a new eHealth and eWelfare cluster has seen the day of light in Northeast Iceland. The aim is to speed up the implementation of digital technologies across healthcare sectors in the area, as well as in other sparsely populated northern regions.

Read the article
---
About the project
* The project Healthcare and care through distance spanning solutions (VOPD) 2018-2021 has over the years mapped out all existing distance spanning services within healthcare and care in the Nordics, and supported implementation by applying the practical guide Roadmap for service innovation and related tools.  All togehter, 52 municipalities and 8 healthcare regions have been supported by experts assigned by VOPD.